1.1.3 Size for Semi-metallic gaskets and metal gaskets
(1) Spiral wound gasket to JIS raised face flange
Products (VALQUA No.)
Product Dimension Standard
Applicable Flange Standard
●Spiral Wound Gasket with Outer Ring
6591、7591、8591
●Spiral Wound Gasket with Inner/Outer Ring
6596、7596、8596
JIS B 2404-2006
VALQUA Standard is Nominal Dia 650 and over.
JIS B 2220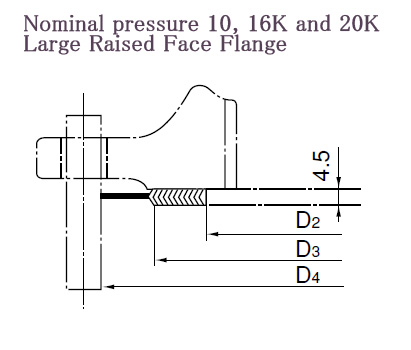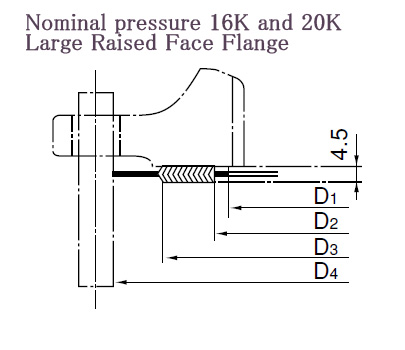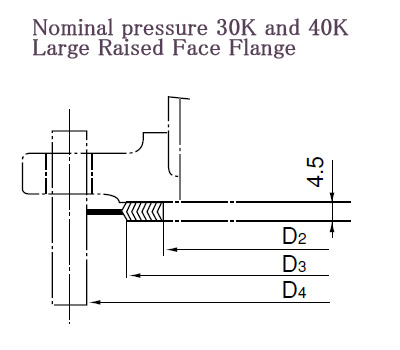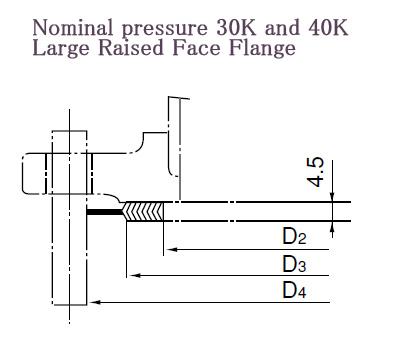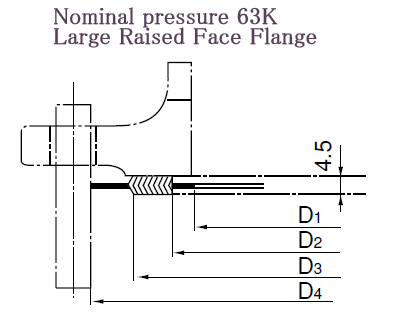 Unit mm
Nominal Dia
10K
16K
20K
30K
(40K)(1)
(63K)(1)
Gasket
Outer ring
OD
D4
Gasket
Outer ring
OD
D4
Gasket
Outer ring
OD
D4
Gasket
Outer ring
OD
D4
Gasket
Outer ring
OD
D4
Gasket
Outer ring
OD
D4
ID
D2
OD
D3
ID
D2
OD
D3
ID
D2
OD
D3
ID
D2
OD
D3
ID
D2
OD
D3
ID
D2
OD
D3
10
24
37
52
24
37
52
24
37
52
24
37
59
21
34
59
21
34
64
15
28
41
57
28
41
57
28
41
57
28
41
64
24
37
64
24
37
69
20
34
47
62
34
47
62
34
47
62
34
47
69
29
42
69
29
42
75
25
40
53
74
40
53
74
40
53
74
40
53
79
35
48
79
35
48
80
32
51
67
84
51
67
84
51
67
84
51
67
89
44
60
89
44
60
90
40
57
73
89
57
73
89
57
73
89
57
73
100
51
67
100
51
67
107
50
69
89
104
69
89
104
69
89
104
69
89
114
63
79
114
63
79
125
65
87
107
124
87
107
124
87
107
124
78
98
140
78
98
140
78
98
152
80
98
118
134
99
119
140
99
119
140
90
110
150
90
110
150
90
110
162
90
110
130
144
114
139
150
114
139
150
102
127
162
102
127
162
102
127
179
100
123
143
159
127
152
165
127
152
165
116
141
172
116
141
182
116
141
194
125
148
173
190
152
177
202
152
177
202
140
165
207
140
165
224
140
165
235
150
174
199
220
182
214
237
182
214
237
165
197
249
165
197
265
165
197
275
175
201
226
245
-
-
-
-
-
-
-
-
-
-
-
-
-
-
-
200
227
252
270
233
265
282
233
265
282
218
250
294
218
250
315
218
250
328
225
252
277
290
-
-
-
-
-
-
-
-
-
-
-
-
-
-
-
250
278
310
332
288
328
354
288
328
354
271
311
360
271
311
378
271
311
394
300
329
361
377
339
379
404
339
379
404
320
360
418
320
360
434
320
360
446
350
366
406
422
376
416
450
376
416
450
356
396
463
356
396
479
356
396
488
400
417
457
484
432
482
508
432
482
508
403
453
524
403
453
531
403
453
545
450
468
518
539
483
533
573
483
533
573
 
 
 
 
 
 
 
 
 
500
518
568
594
533
583
628
533
583
628
 
 
 
 
 
 
 
 
 
550
569
619
650
584
634
684
584
634
684
 
 
 
 
 
 
 
 
 
600
620
670
700
635
685
734
635
685
734
 
 
 
 
 
 
 
 
 
650
692
724
750
704
754
784
724
774
805
 
 
 
 
 
 
 
 
 
700
752
784
810
754
804
836
774
824
855
 
 
 
 
 
 
 
 
 
750
807
839
870
814
864
896
834
884
918
 
 
 
 
 
 
 
 
 
800
853
889
920
864
914
945
894
944
978
 
 
 
 
 
 
 
 
 
850
903
939
970
914
964
995
954
1004
1038
 
 
 
 
 
 
 
 
 
900
953
989
1020
964
1014
1045
1004
1054
1088
 
 
 
 
 
 
 
 
 
1000
1058
1094
1124
1074
1124
1158
 
 
 
 
 
 
 
 
 
 
 
 
1100
1168
1204
1234
1174
1224
1258
 
 
 
 
 
 
 
 
 
 
 
 
1200
1273
1309
1344
1284
1334
1368
 
 
 
 
 
 
 
 
 
 
 
 
1300
-
-
-
1384
1434
1474
 
 
 
 
 
 
 
 
 
 
 
 
1350
1428
1464
1498
1444
1494
1534
 
 
 
 
 
 
 
 
 
 
 
 
1400
-
-
-
1494
1544
1584
 
 
 
 
 
 
 
 
 
 
 
 
1500
1583
1619
1658
1604
1654
1694
 
 
 
 
 
 
 
 
 
 
 
 
【Note】
1. Nominal Dia 600 or less in this table is based on JIS B 2404. VALQUA standard dimension is defined for Nominal Dia 650 and over.
2. This table is applicable to flange specified in JIS B 2220. However, type A and B of nominal pressure 20K and 30K Slip-On flange need changing to customerised dimension. Please consult Valqua refering to the table below.
3. Please use high strength bolt of SNB-7 or more.

*(1)Reference dimension
Nominal pressure 20K and 30K
Recommended dimension for Slip-on flange (Type A andB)
Unit mm
Nominal Dia
20K
30K
D2
D3
D4
D2
D3
D4
10
30
42
52
36
46
59
15
34
46
57
41
51
64
20
39
51
62
45
56
69
25
50
63
74
54
66
79
32
59
73
84
62
75
89
40
63
78
89
69
84
100
50
77
93
104
83
99
114
65
92
112
124
100
120
140
80
99
119
140
110
130
150
90
114
139
150
118
140
162
100
127
152
165
129
151
172
125
152
177
202
160
185
207
150
182
214
237
191
223
249
200
233
265
282
236
268
294
250
288
328
354
293
333
360
300
339
379
404
351
391
418
350
376
416
450
396
436
463
400
432
482
508
449
496
524
450
483
533
573
 
 
 
500
533
583
628
 
 
 
550
584
634
684
 
 
 
600
635
685
734
 
 
 
【Note】
1. This table is difined for its own dimension except for 20K Nominal Dia 80 to 600.
2. This table is applicable to type A and B of nominal pressure 20K and 30K Slip-On flange specified in JIS B 2220.
3. Pleaes consult VALQUA in advace in case of using Slip-on flange(Type A and B).