Gland Packing,Flexible graphite based general use grade
Download the Article in PDF Format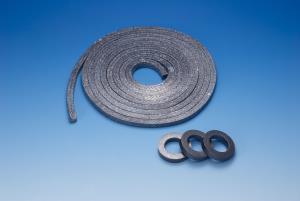 VALQUA No.

N133

Product name

Flexible graphite based general use grade



Features1

Coil packing made of expanded graphite yarn reinforced with stainless wire and braided into a square cross-section, and finished with PTFE dispersion.

Features2

These are alternatives for asbestos based general use products used as shaft seals of pumps and valves for handling water, oil and solvent.

Features3

This is a high cost performance, expanded graphite braided packing that can be used with general-use valves and pumps.

Features4

Low price product

Features5

Old product number: VC-22
Color/Print

Gray
Application ◎:1st recommended products ○:2nd recommended products
| | |
| --- | --- |
| Valve | Recommended Application |
| Temperature limit(℃) | 350 |
| Pressure limit(MPa) | 10.3 |
| pH | 0~14 |
| Rating: ANSI | Class 600 |
| | |
| --- | --- |
| Rotary Pump | Recommended Application |
| Temperature limit(℃) | 300 |
| Pressure limit(MPa) | 1.0 |
| Speed limit(m/s) | 8 |
| Permissible PV value (MPa・m/s) | |
| pH | 0~14 |
| Attack to shaft | Excellent |
Applicable fluids ◎:1st recommended products ○:2nd recommended products
Water based fluid
| | |
| --- | --- |
| Clean water, seawater | |
| Heated water | |
| Superheated steam,Saturated steam | |
| Clean water, refreshing beverage | |
| sewage water | |
| muddy water | |
| Slurry liquid | |
| Heated water, boiler feed water, low pressure steam | |
Oil based fluid
| | |
| --- | --- |
| Animal & vegetable oil, Mineral oil | |
| Heat transfer oil (except HTS) | |
| Heat transfer oil | |
| Crude oil | |
| Heavy fuel oil | |
Solvent
| | |
| --- | --- |
| Alcohol based solvent | |
| Aromatic hydrocarbon | |
| Ketones & ethers | |
Corrosive fluid
| | |
| --- | --- |
| Weak acid & alkali | |
| Strong acid (except oxidizing acid) | |
| Oxidizing acid & oxidizing agent | |
| Strong alkali | |
| Pulp liquid | |
Gas based fluid
| | |
| --- | --- |
| Nonflammable gas & inflammable gas | |
| Gas susceptible to burn | |
| Liquefied gas | |
Fine particle etc.
| | |
| --- | --- |
| Fine particle | |
| Slurry liquid | |
| Polymer | |
Gas in general
| | |
| --- | --- |
| Air, gas | |
| Solvent vapor, etc. | |
Others
| | |
| --- | --- |
| Refrigerants (chlorofluorocarbons) | |
| low temperature liquefied fluid | |
Inappropriate fluid: Oxidizing acid & oxidizing agent
This selection table lists up products recommended by us for various conditions, and does not necessarily mean that non-marked items can not be used. It should also be noted in advance that, depending on the service conditions, abrasion powder may be mixed into the working fluid.
■ FAQ
Q. What should I use to cut the gland packing?
A. The gland packing can be cut with a sharp blade such as a standard cutter knife or kitchen knife of medium size or larger. Also, a guillotine packing cutter, which is a dedicated cutting tool that combines a scale and a cutting machine, is sold by Garlock, our partnering company in the U.S.
Q. Which is better for cutting the gland packing, bias cut or straight cut?
A. When looked at in one-ring units, both bias cut and straight cut have their advantages and disadvantages, such as the bias cut being less prone to leakage due to a long cut surface and the butt portion of the cut surface being less prone to shifting in the straight cut, but basically because this is a product that is used with multiple overlapping layers, there will be no difference in terms of using either cutting method.
Q. Why is the gland packing for pump used with leaking liquid?
A. Unlike a mechanical seal or lip packing, lubrication and coolability of the contact surface are secured by using it with leaking liquid. Using it without leaking liquid may result in the seizing, damage or short life of the packing. In addition, the amount of leaking liquid varies depending on the operating status of the pump and the performance of the gland packing that is used.
■ VALQUA HAND BOOK TECHNICAL DATA