VALFLON®(PTFE) Strengthening tape Enhancing film
Download the Article in PDF Format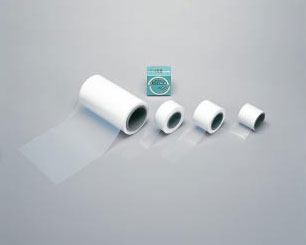 VALQUA No.

7900-S
7910-S
7990-S
7991-S

Product name

VALFLON ® (PTFE) Surface Treatment Film



Product features

This is a reinforced product of a solid PTFE tape.
V7900-S: Untreated Product
V7910-S: With Single-sided Adhesive Material
V7990-S: Both-sided Treated Product
V7991-S: Single-sided Treated Product
■ Product features
This is a PTFE tape with tensile strength and high electric insulation properties, and it is manufactured by a unique forming method.
Compared with a PTFE cutting tape, it has about 50% higher breakdown voltage and twice or more tensile strength.
■ Dimensions
■ Various characteristics
No. 7900-S Characteristics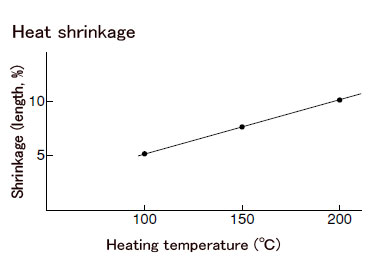 【Applications】
Coil separator, insulation of motor transformer, spacer, capacitor, etc.
No. 7910-S Characteristics
This is a product in which an adhesive agent with heat-resisting property is applied to a VALFLON PTFE reinforced tape.
It has high tensile strength so it facilitates pasting work.
| | | |
| --- | --- | --- |
| Tensile strength: N/25mm | 88.3{9.0} | 137.3{14.0} |
| Expansion: % | 120 | 125 |
| Breakdown voltage: kV | 9 | 11 |
Heat resistance of adhesive force
The figure below shows data of adhesive force measured after the product is pasted on a stainless plate and then heated for a designated amount of time at 180℃.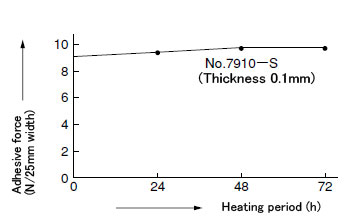 【Applications】
Separators for heat sealers, roller conveyor belts, mold releasing such as hoppers, etc.
■ FAQ
Q. Do you have the products in stock?
A. We do not keep the products in stock since the products are made based on the orders received. We have wide web rolls available for each thickness, and they can be cut into specified dimensions and shipped out.
Q. Is it possible to order the product in dimensions that are not shown in the catalog?
A. Please contact us for more information.