Compressed fiber sheet gasket
Compressed Fiber Sheets are sheet type gasket materials, where special rubber binder and a small amount of filler material are mixed with organic and inorganic fibers, and rolled & vulcanized.
Download the Article in PDF Format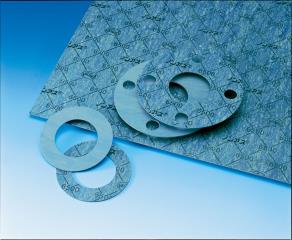 VALQUA No.

6500

Product name

General Use Compressed Non-Asbestos Fiber Sheet

Features1

These are suitable to be used as Non-asbestos gaskets for pipe flanges and equipment in various industries.

Features2

The adaptability of these sheets as water apparatus according to JIS S 3200-7 has been confirmed.

Features3

Pipe flanges, valve bonnets and other equipment used in various industries including oil refineries, chemical industries and shipyards
Applicable fluids

Water, Sea water, Hot water, Steam,Crude oil, Alcohol, Animal & vegetable oil, Heat transfer oilGeneral solvent, Weak acid, Weak alkali,Air, Nitrogen gas, Inert gas,Exhaust gas,etc.

Inappropriate fluid

Strong oxidizing acid, Strong alkali, Various solvents, Inflammable gas, Gas susceptible to burn, Poisonous

Application

Pipe flanges, valve bonnets and other equipment used in various industries including oil refineries, chemical industries and shipyards

main ingredient

NBR, Aramid yarn, Mineral wool, Inorganic fillers

Color/Print

Blue/Black
■ Available ranges
| Temperature(℃) | Pressure(MPa)Water based | Pressure(MPa)Oil based | Pressure(MPa)Gas based |
| --- | --- | --- | --- |
| -50〜183 | 3.0 | 3.0 | 1.0 |
For service conditions exceeding 100°C, the notes on "The fluid-wise available ranges" shall be observed.
Oil gas, solvent and corrosive fluid are not included, thus requiring separate consultation.
Remarks: Temperature and pressure classifications show individual service limits.
■ Dimensions
Thickness(mm)
Size(mm)
0.4 、0.5 、0.8
1.0 、1.5 、2.0
3.0
1270×1270
1270×3810
2540×3810
3048×3810
■ Design criteria
Thickness(mm)
Gasket factor"m"
Minimum design
seating stress "y"
(N/mm2)
Recommended
tightening stress
(MPa)Liquid
Recommended
tightening stress
(MPa)Gas
1.0
3.50
44.8
25.5
40.0
1.5
2.75
25.5
25.5
40.0
3.0
2.00
11.0
25.5
40.0
The recommended tightening stress are the pressures required under normal conditions, and correspond to the projected area of the gasket, where fluid pressure is not taken into consideration.
■ The fluid-wise available ranges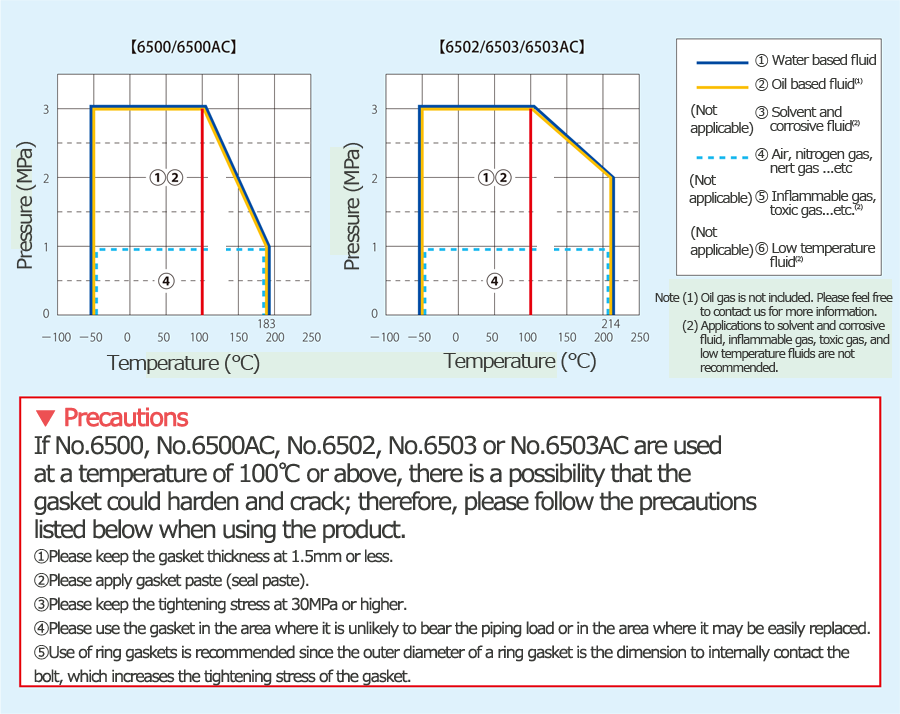 ■ Stress strain characteristics of Compressed Fiber Sheets
(Specimen dimensions:JIS 10K 25A t=1.5mm)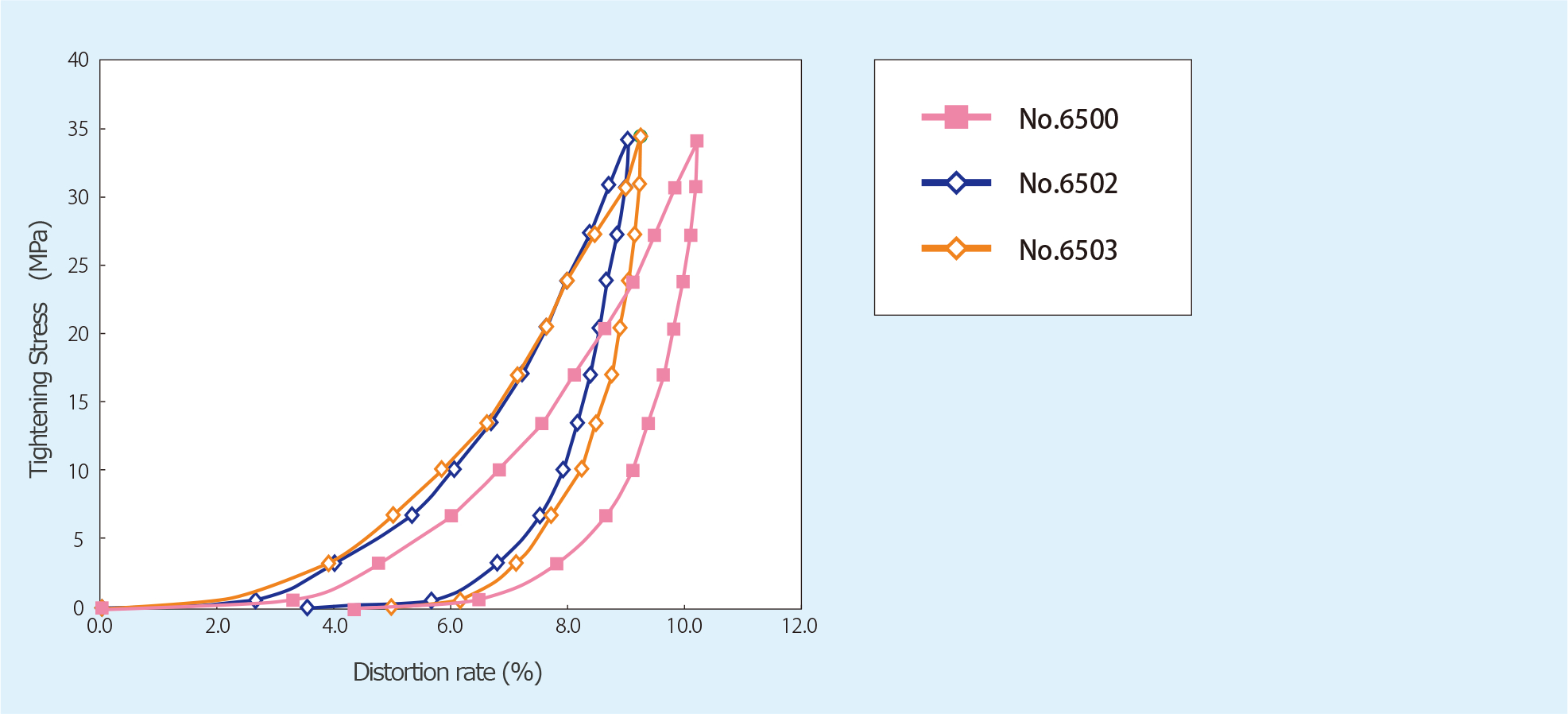 ■ Comparison of physical properties
■ Comparison of physical properties ■
Item

High Performance Sheet Gasket

Compressed Fiber Sheet

No.UF300

No.GF300

No.SF300

No.MF300

No.6500

No.6502

No.6503

Thickness

(mm)

1.5

3.0

1.5

3.0

1.5

3.0

1.5

3.0

1.5

3.0

1.5

3.0

1.5

3.0

Physical Properties
Tensile strength
(across grain)   

(MPa)

12.0

14.6

12.4

10.9

16

15.8

12

14.1

17

15.3

13.1

12.5

19.2

18.1

Compressibility
(34.3MPa)  

(%)

4

4

5

4

5

6

5

4

10

10

9

10

9

6

Recovery(34.3MPa)  

(%)

49.0

46

53

54

42

50

32

36

57

55

67

64

60

61

Flexibility with grain in multiple to thickness   

(kg/m3) 

<2

<2

<2

<2

<2

<2

<2

<2

9

9

11

12

10

10

Density          

 

2576.0

2557

2315

2262

2319

2280

2910

2839

1810

1813

1761

1759

1803

1857

Oil resistance 〈IRM903 OIL 150℃×5h〉

Tensile strength loss

(%)

0.6

0.2

1.0

7.6

3.8

5.1

1.5

5.9

16.7

6.3

9.2

9.6

13.0

0.0

Thickness increase

(%)

0.0

0.0

0.2

0.1

0.0

0.0

0.2

0.2

2.2

1.2

1.3

1.0

2.1

0.6

Weight increase

(%)

0.4

0.2

0.5

0.6

0.5

0.7

1.1

1.4

3.9

3.2

4.4

3.0

4.2

1.7

Fuel oil resistance 〈JIS fuel oil B RT × 5h〉

Thickness increase 

(%)

0.0

0.3

0.4

0.3

0.4

0.1

0.2

0.5

5.6

2.8

4.3

2.6

5.4

2.3

Weight increase

(%)

1.0

1.2

0.9

1.2

0.9

1.3

0.9

1.8

5.6

4.0

6.7

6.0

7.0

3.2

Creep relaxation〈 JIS R 3453 Tightening stress 20.6MPa 〉

100℃×22h

20.3

44.5

16.2

37.0

16.1

42.7

16.9

30.2

27.5

47.0

23.5

37.8

27.3

45.0

200℃×22h

44.7

71.9

35.3

65.8

40.5

68.8

35.8

55.0

52.0

78.8

41.1

65.5

43.6

60.5

Sealability〈JIS 10K50A, Internal pressure 1.0MPa, Tightening stress 25.5MPa, Thickness 1.5mm〉

Without paste

(Pa・m3/s)
1.7×10-4 or below
1.7×10-4 or below
1.7×10-4 or below
1.7×10-4 or below
1.4×10-3
1.9×10-4
1.2×10-3

(atm・㏄/min. )

0.1 or below

0.1 or below

0.1 or below

0.1 or below

0.83

0.11

0.74

With paste

(Pa・m3/s)

-

-

-

-

1.7×10-4 or below
1.7×10-4 or below
1.7×10-4 or below

(atm・㏄/min. )

-

-

-

-

0.1or below

0.1or below

0.1or below
Note(1) Flexibility is in accordance with JIS R 3453 6.2.5. Refer to "Comparison of high temperature hardening properties".
Remark All the above physical properties are measurement examples, and not regulatory values.

■ Notes to be observed in design and usage
The following descriptions summarizes precautions for design, storage, and installation,
in order to properly use Sheet Gasket.
▼ Notes to be observed in design
1.Determine the number and size of bolts and gasket dimensions to provide gaskets with sufficient tightening stress, and also check the flange construction and bolt arrangement to ensure uniform distribution of the tightening stress.
2.Surface finish of the flange shall be about 6.3 Ra (reference: 25 S). Excessive smooth finish may cause slippage on the gasket, leading to crush.
3.Determine the construction, material and dimensions so as to prevent warpage or bowing of the flange at the time of application of internal pressure.
4.Consideration shall be given in design to prevent application of excessive thermal stress or repetitive bending stress on the joints.
5.Piping design shall not allow accumulation of drain or scale at the flange sections.
6.Consideration shall be given to prevent transmission of vibration to the joints.
▼ Notes to be observed before installation
1.Ensure perpendicularity of the flange and the pipe.
2.Ensure the shaft alignment of the mating flanges.
3.Check for any deformation of flanges.
4.When changing only gaskets for the existing equipment or at a piping joint, clean the junctions and check for any damage, and repair if required.
5.Remove the rust at the flange surface, and repair any dents and dings.
6.Pay attention not to give damage to the gaskets during storage up to installation, or during installation work.
▼ Notes to be observed before installation
1.When installing gas seals, refer to the following "Counter measures against permeation leakage".
2.Install the gaskets in a clean environment so as to prevent entry of foreign substances between the gaskets and the flanges.
3.Flange bolts shall be gradually tightened each time, and repeat this process 4 to 5 times, so as to finally ensure uniform tightening.
4.When tightening, pay attention to prevent the occurrence of crush.
5.In particular, when using gaskets of 150 Lb, 1B or smaller, or those of smaller gasket width, care shall be given as gasket stress is likely to be excessive.
6.At the time of load up or restarting, check for any loose bolts.
7.If retightening of gaskets that have already once experienced leakage fails in preventing leakage, replace them with new ones.
8.Please note that joint sheet may harden over 100℃. Please refer to precaution of available range per fluid and adequate tightening shall be performed initially to avoid retightening after use at high temperature. If necessary, retightening should be performed within 24 hours after heating operation starts and until material hardening is not significant.
▼ Notes to be observed in storage
1.Store these joint sheets in a cool and dark place not subject to direct sunshine, fresh air or ozone.
2.Storage selected shall be in a clean environment, free from dust as well as from high temperature & high humidity and corrosive atmosphere.
3.If hanged on nails or the like, gaskets may suffer breakage or permanent deformation, so that, as far as practicable, they should be put in a can or wrapped in a polyethylene bag and stored in a paper box.
4.Large sized gaskets shall be put between larger plates without rolling and placed horizontal for storage.
■ Countermeasures against permeation leakage
Since permeation leakage occurs in Compressed Fiber Sheet , the following points shall be observed for gas seals.

1. Apply gasket paste on the cut surface of the gasket inner diameter side. Application of gasket paste on the contact surface between the gasket and the flange is likely to cause crush, so that attention is required in tightening, and also the amount of gasket paste shall be minimized.
2. Maintain the tightening stress to be around 40 MPa. Also use ring gaskets instead of full-face gaskets, so as to ensure proper tightening stress.
3. Use gaskets with a minimum thickness as far as possible (1.5 mm or less).
■ FAQ
Q. Please tell me how to estimate the tightening torque of the compressed non-asbestos fiber sheet gasket.
A. The tightening torque is calculated by the calculating formula below using the recommended tightening stress described in the catalog.
Q. Can the compressed non-asbestos fiber sheet gasket be used in inflammable gas?
A. The compressed non-asbestos fiber sheet is a product that mixes various materials such as organic fibers, inorganic fibers, fillers and rubber and then processed into a sheet, so there is a small cavity within the gasket in terms of its structure. As a result, it is relatively prone to leakage in the case of fluids that are easily permeable like gaseous matter with small molecular weight. Therefore, we do not allow usage in inflammable gas taking into consideration cases in which even small leakage such as of flammable gas is unfavorable.
Q. Are there any precautions when using the full-face gasket?
A. There are cases in which full-face gaskets cannot be sufficiently tightened with a flat face flange or the like due to its wide gasket contact cross section. As such, we recommend a normal ring gasket, but the usage of the full-face gasket is allowed if sufficient tightening is possible such as the gasket seat being raised face.
Q. I want to control the width of the opening in the flange such as with a sheet gasket. How should I do this?
A. Control with width of the opening in the flange is prone to cause a margin of error and an accurate tightening stress cannot be obtained. It is effective for uneven tightening, so please use it in conjunction with control of tightening torque.
Q. Please tell me about the difference in the gasket dimensions between flanges of the JPI and ASME/ANSI standards.
A. JPI basically quotes from ASME/ANSI, so there are cases in which the dimensions differ slightly due to rounding error during the millimeter conversion of the original number. We understand that, in actual use, the function of the gasket is fulfilled to an equivalent degree by both dimensions.
Q. Why does leakage occur during stop or re-operation even though there are no problems during plant operation?
A. Expansion and contraction of the flange, bolt, pipe and the like will occur due to temperature changes. As a result, a tendency of reduced tightening force in the gasket main unit is often observed when the temperature decreases (including low temperature at the time of initial re-operation), and leakage occurs due to relaxation. We therefore generally recommend a retightening of the gasket before re-operation after the first heat addition.
Q. Is retightening effective when leakage occurs?
A. Yes, it is effective. We ask that retightening during leakage be performed after relieving internal pressure. However, there are also points to keep in mind for each product, such as the possibility of damage as a result of temperature-induced hardening in the case of a compressed non-asbestos fiber sheet.
Q. I am not sure which gasket to select, so could you select it for me?
A. If you contact us together with your operating conditions, we will recommend an appropriate product based on our technician's selection.
■ VALQUA HAND BOOK TECHNICAL DATA
■ VALQUA HAND BOOK DIMENSIONAL DATA